We welcome you to the Culinary Scene — a place to gather with friends, try a new recipe, and explore a world of flavor. At Roth living, we are as passionate about creating memories as we are about connecting you with appliances that perfectly suit your lifestyle. Join in on the fun or sit back and let our chefs guide the way. You're in for a treat!
Culinary Scene:
High Altitude Baking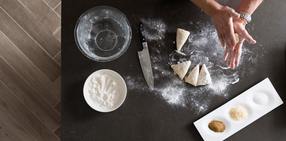 Join Amy Hoyt at the Roth Living Showroom for a lesson in high-altitude baking. In this hands-on class Amy will be sharing her tips, techniques and recipes for cakes, cookies, pies and breads. Amy has years of experience at legendary Colorado restaurants such as Strings and Kevin Taylor's Zenith. She has also been a regular instructor at the Seasoned Chef Cooking School and chef-creator of OO Mommie, a line of gourmet ketchups, chutneys, mustards and jams.
Upcoming Events
High Altitude Baking

1:00pm - 4:00pm RSVP