We welcome you to the Culinary Scene — a place to gather with friends, try a new recipe, and explore a world of flavor. At Roth living, we are as passionate about creating memories as we are about connecting you with appliances that perfectly suit your lifestyle. Join in on the fun or sit back and let our chefs guide the way. You're in for a treat!
Culinary Scene:
Thanksgiving Reinvented
The traditional late-November dishes have you feeling indifferent about the holidays? Come and get reinspired with Chef Mike as he shares his secrets for easy-but-phenomenal entrees and sides. In this hands-on class, you'll whip up some Thanksgiving dishes that are perfect for wowing your guests and putting that Turkey Day sparkle back in your kitchen.
Fantastic Holiday Confections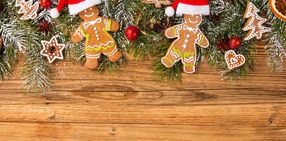 Sometimes, baking can seem intimidating, with recipes that seem to have a ton steps and impossible-to-find ingredients. Welcome to the demystification process. Chef Cynthia creates some seemingly elaborate treats that are actually easy to replicate at home (but don't tell your guests that). From truffles to macaroons, you'll learn all the secrets of some top confections.