We welcome you to the Culinary Scene — a place to gather with friends, try a new recipe, and explore a world of flavor. At Roth living, we are as passionate about creating memories as we are about connecting you with appliances that perfectly suit your lifestyle. Join in on the fun or sit back and let our chefs guide the way. You're in for a treat!
Culinary Scene:
The Cholesterol Myth Cooking Class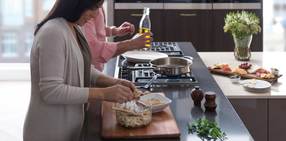 You may be surprised to know that cholesterol is essential to your body's function. Join this class where you will learn all about cholesterol and healthy fat, You'll also enjoy a meal designed to encourage healthy levels.
Upcoming Events
The Cholesterol Myth Cooking Class

6:30pm - 8:00pm RSVP