Chef Allysa Adamson
Allysa's culinary passions began early on, initially driven by the desire to make people happy. She received her Masters degree in Food Science. Through her scientific background and opportunity to travel, she grew her culinary knowledge. Her appreciation and veneration for food drives the way she cooks today; striving to showcase simple, beautiful ingredients at their best.
In- Person Ownership Experience: Convection Steam Oven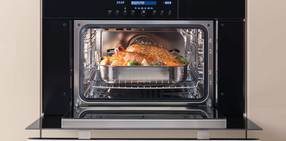 An event entirely centered around Wolf's Convection Steam Oven. The innovative appliance will help you achieve a golden roasted turkey or vibrant steamed asparagus. Steam, roast, bake, slow cook—explore the possibilities. The demonstration will cover functionality, controls, and modes. At the demonstration you will enjoy a dining experience created by our executive chef.
Upcoming Events
In- Person Ownership Experience: Convection Steam Oven

11:00am - 1:00pm